Why Mulvey Beck…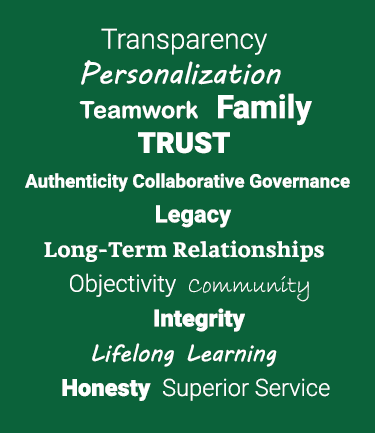 Mulvey Beck was founded to create a culture where people were always striving to do their utmost for both clients and our communities. Our shared values have always guided this. Our culture is rooted in the collective values of integrity, transparency, and an ongoing commitment to always consider the impact of everything we do on the world around us.
Our Beliefs
Quality advice should be the most important thing in the field of financial advice. Mulvey Beck was started with this goal in mind: to be an alternative to big banks and brokerage firms that focus more on products and sales than on their clients' needs.
The best way to give financial advice is to follow a genuine fiduciary standard of care. We treat our clients in the manner that we would want to be treated.
We believe in being open, honest and direct. Our main goal is to help each client make and stick to a long-term plan that is doable and sustainable. We promise to give realistic expectations.
We believe that investing should be based on facts. We won't put our clients' hard-earned money at risk by following trends or making guesses.
We appreciate the importance of listening carefully.
The best investment advisors combine professional expertise with the wisdom of life experience, a passion for learning, and a love for the business.
We want to hire, promote and retain the best people, and we believe that a diverse, fair, and inclusive workplace makes everyone's lives better and improve outcomes.
We strive to make a positive impact on our clients and their families, on our employees and the world around us.